SCULPTURE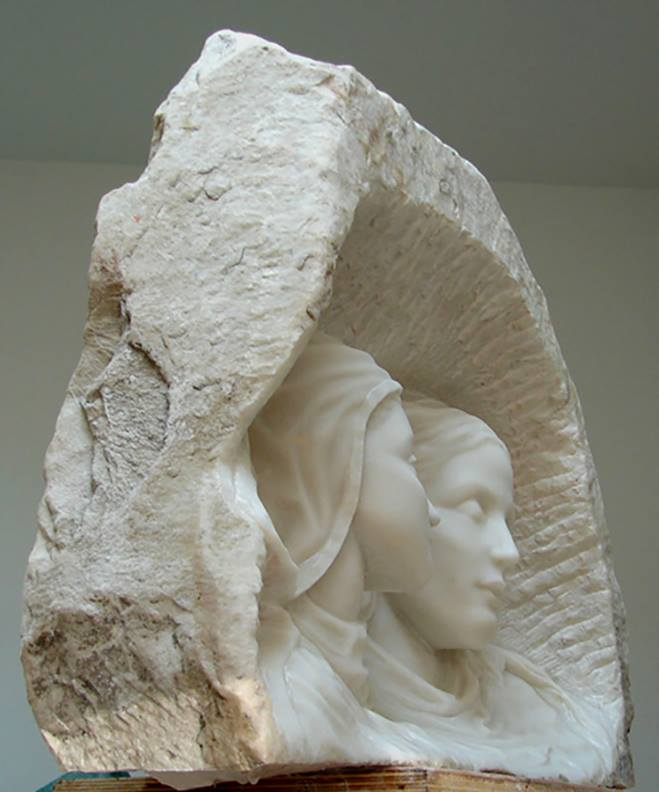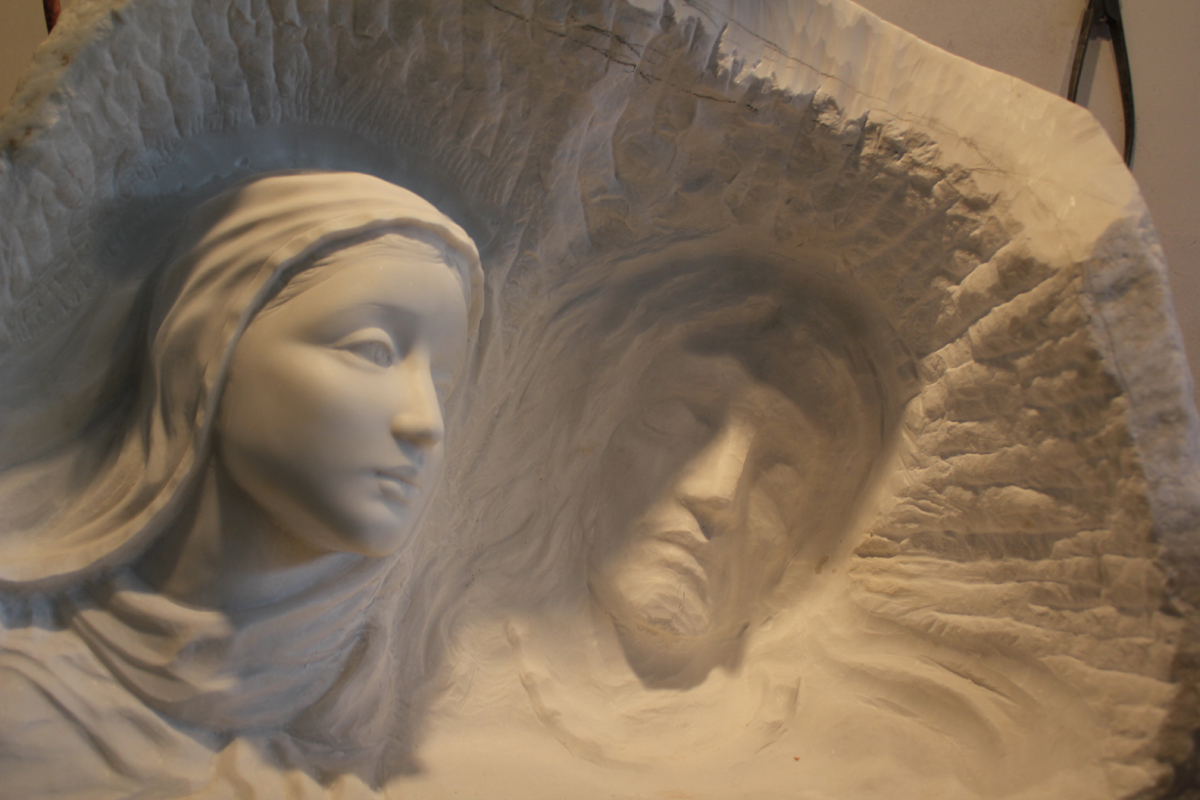 Pieta, Carrara Marble, life size, 2006-2017.
Two Minute Video-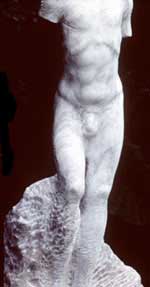 After centuries of sculptors not carving themselves, there appeared in modern times a movement called " Direct Carvers". Sculptors wanted contact with the stone themselves and they wanted the finished piece to look like stone. I was influenced by that seemingly honest and direct idea. On one of my first carvings, I made a rough shape of a face on a boulder. Then after a month of looking at what I had done in the modern way, leaving a general shape, my study of Michelangelo asserted itself and prompted me to see inside the block. I peeled back the marble to reveal a face inside, and I left evidence of the process of uncovering. I uncovered it as if breaking through an egg shell. It is called Egghead Muse.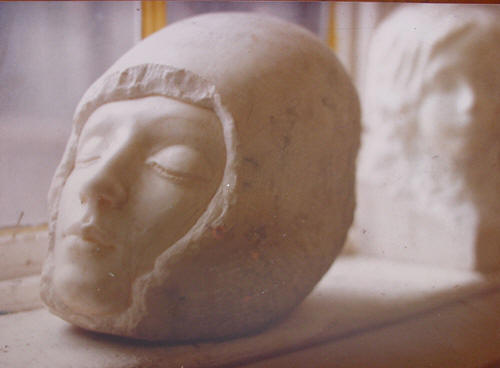 Egghead Muse, detail. Sullivan, marble, life size.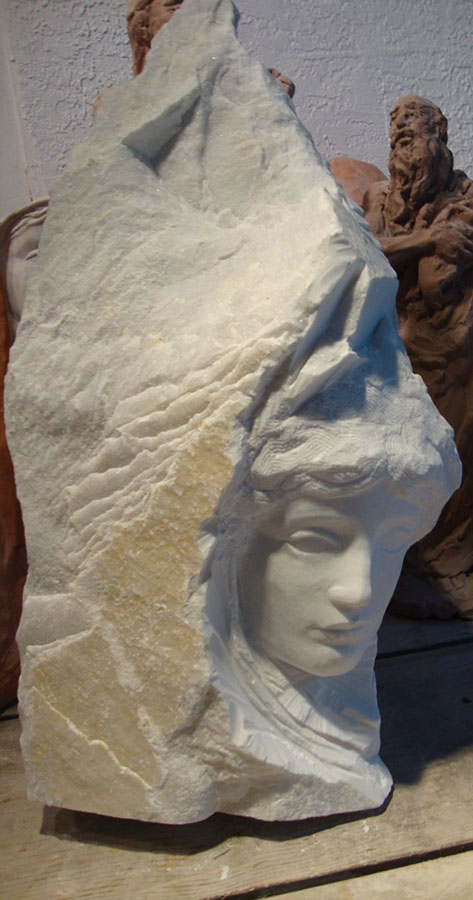 Video about Carving Marble, Videographer Brendon Weston.
https://www.youtube.com/watch?v=olhx3YjQDJA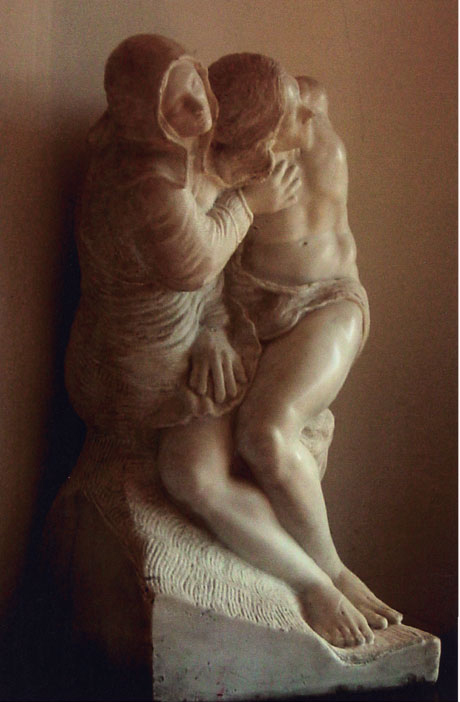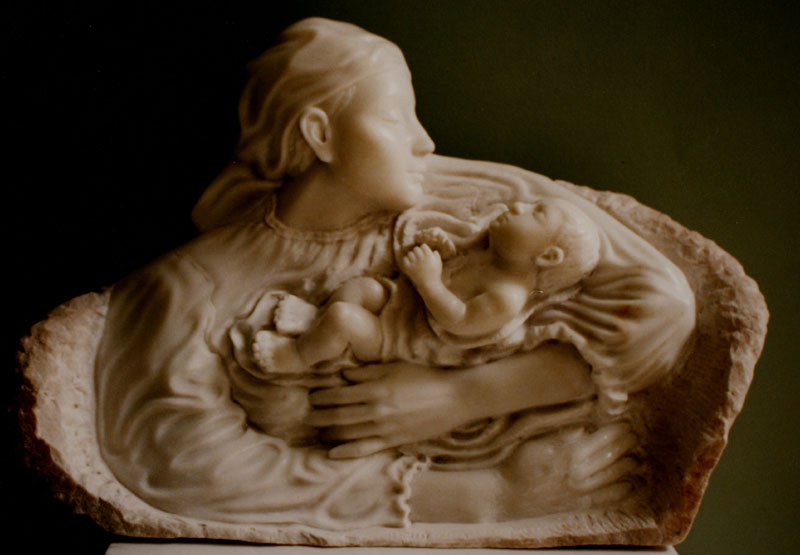 Madonna and Child, Carrara marble, life size, private collection, Miami.
Cornelius Sullivan© 2019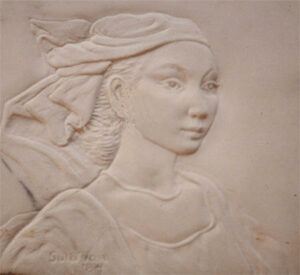 Nigerian Princess, marble relief, private collection Nigeria.
This was a portrait commission carved in Boston. She asked if she could wear her traditional head dress. It was a striking deep ultramarine blue.
Cornelius Sullivan© 2019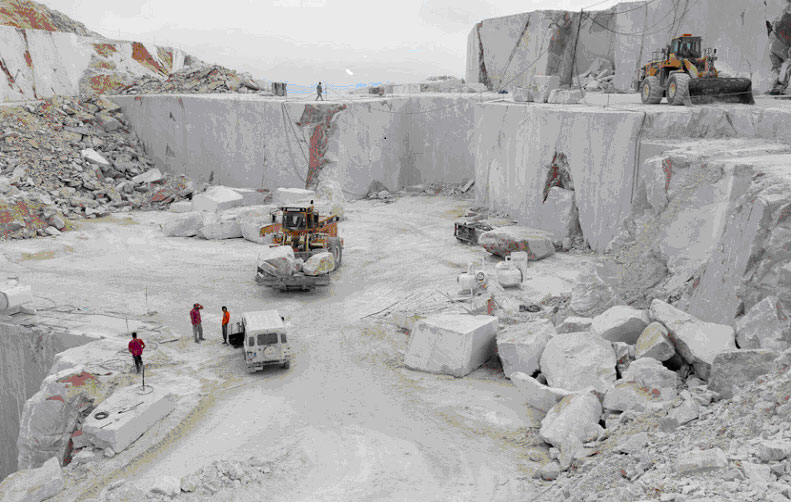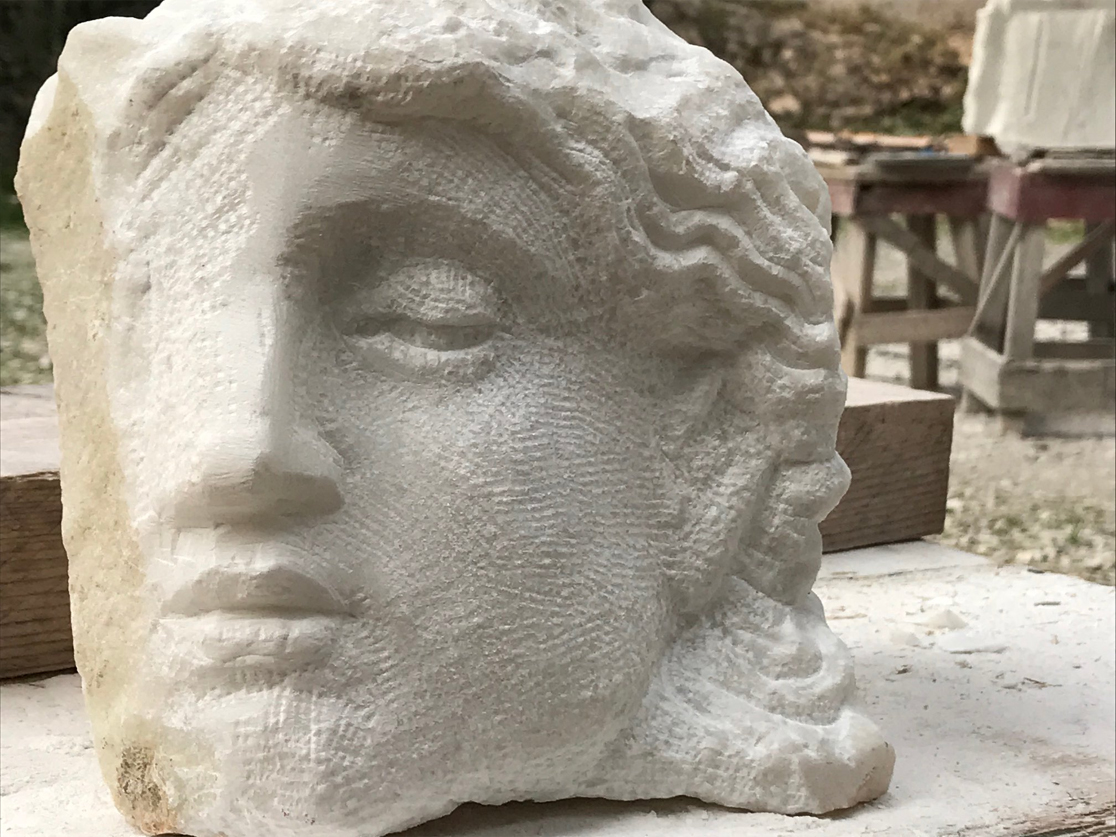 I am in Carrara carving at an artist's cooperative called Pont di Ferro, Iron Bridge, just outside of town.
Am visiting Sculptor Marton Varo and some Italian sculptors that I know. I did not rent a space to carve or buy marble because I won't be here too long.
I found a scrap of marble and carved for two days.
It became Donatello the young Italian man in Nathaniel Hawthorne's novel set in Rome, The Marble Faun.
He is befriended by three art students, an American girl, and an English girl and young man.
When they were in the Capitiline Museum they noticed that their new friend, Donatello, looked exactly like the famous Antique sculpture known as the Marble Faun, half goat and half man.
The same curly hair. They rushed to see if he had pointed ears. He ran away.
Hawthorne makes us wait 'til the end of the book and we still may not be sure if he is a boy or a faun.
As I began carving the rough block I slipped and carved a pointed ear.
Thinking about him immersed in this marble mountain I wanted to imbue the sculpture with a mysterious quality.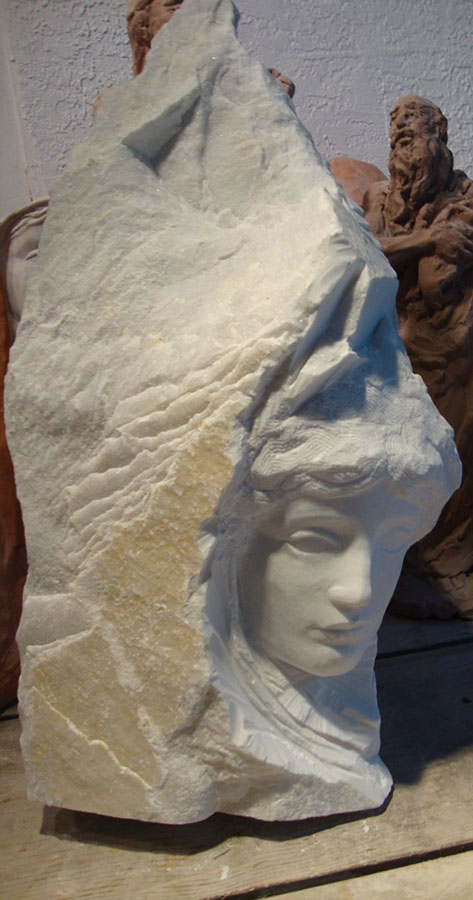 Angel of the Mountain, Carrara marble, 2011, Private Collection Kennebunkport, ME.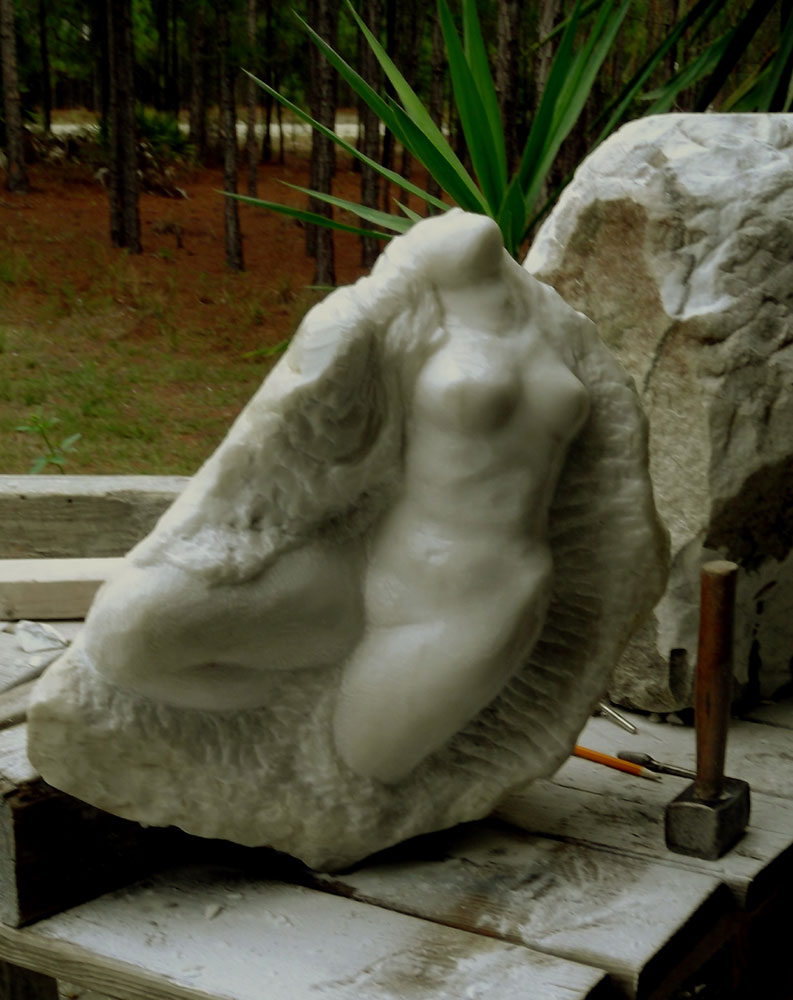 Emerging Figure, Carrara Marble.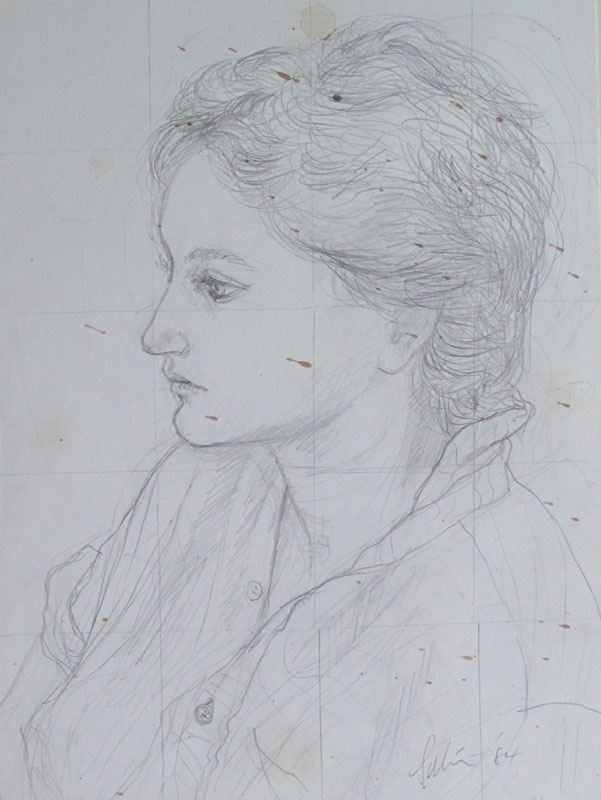 Kathleen, Drawing for Marble, pencil, 9×12″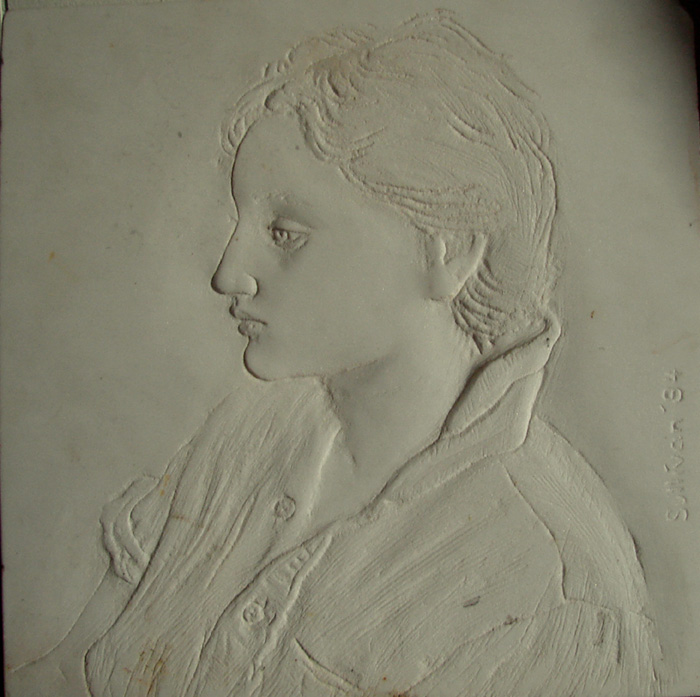 The Artist's Daughter, Kathleen, marble, 12″ x 12″, 1984.
SCULPTURE VIDEOS
CARVING A MARBLE PIETA  283,000 views  https://www.youtube.com/watch?v=E_Dkl_ZSERM&t=8s
CARVING A MARBLE FACE   151,444     https://www.youtube.com/watch?v=5VwpuuaJS4g&t=121s 
INTRODUCTION TO CARVING MARBLE, video by Brendan Weston   https://www.youtube.com/watch?v=yr1X0ABg2dU&t=5s
LAURA CLAY PORTRAIT 4,966 views  https://www.youtube.com/watch?v=xrkFmIG9D0I
Lecture, – LOOKING OVER MICHELANGELO'S SHOULDER AS HE CARVES MARBLE
Carving by the Michelangelo Quarry Article, The Italian Insider, Rome
http://www.italianinsider.it/?q=node/2441
copyright 2021,Cornelius Sullivan.