Tranquillo Caravaggio, the Town

 

Cornelius Sullivan

Caravaggio, Lombardy

 

Today many assume that the town Caravaggio was named after the great painter. In fact, he was named after the town.  Michelangelo Merisi da (from) Caravaggio was born here in 1571. Biographers guess that he was born on the feast of Saint Michael the Archangel, September 29th.

 

Caravaggio, the town is tranquil, the artist's life was not.

 

Caravaggio is 37 KL East of Milan. It is an area with prosperous farms. I saw a number of citizens that might be in a Caravaggio painting, mostly the older working men and the young. In the evening there were a few young women that looked similar to the Roman beauties that posed for him.

 

I saw a brooding young man sitting in a vacant lot not far from the train station as I was leaving. He looked a lot like Caravaggio. He had dark hair and thick dark eyebrows, light skin and a twenty year old stocky build. By the way he sat and the way he looked at me I imagined that in an earlier time he might have had a sword. I assumed he was idle.

 

Then I saw him later on the train going to Milan. I wanted to snap a photo of him as a modern day look alike of the artist but I did not want to invade his privacy. He probably works in Milan. He, with many of the other riders at mid-day, had the disinterested look of workers commuting. He probably was leaving his home city to work and return at night, not like Caravaggio who had to leave for good to find his vocation as an artist in a big city.

 

It is a plain town. I stayed at an antique and modestly grand hotel with a terrific restaurant called Tre Re, Three Kings. It is not far from the train station and across the street from the Caravaggio Bar. I sat outside next to a man who was celebrating, with his wife, his eighty sixth birthday. The meal he had and the wine that he consumed indicated that he was a healthy man. I assumed he was a farmer because of his mature tan and muscular appearance. He was a retired postman, il postino. He said Caravaggio is calmo, tranquillo. Although the menu was rich with regional feasts, a large class of about thirty students of early teen years came with four teachers and they all had pizza. The waitresses in dresses and heels delivered the pizzas across the grass with speed and grace. I got a sense of the healthy somewhat sheltered life of the young people here away from big city tensions.

 

There is one architectural marvel in the town, the shrine to the Madonna of Caravaggio. It dates from the sixteenth century. Helen Langdon in her biography of Caravaggio writes, "Beyond the town gates of Caravaggio, preceded by a magnificent avenue of lime trees, this sanctuary is a grandiose building, and its splendid dome may be seen for many miles around across the Lombard plains. Bartolomeo Merisio, Caravaggio's uncle worked as site architect."

 

Saint Charles Borromeo, Archbishop of Milan, commissioned the church to mark the appearance of the Madonna to a peasant girl in 1432. The work began in 1575 during Caravaggio's childhood. Langdon says it created "a constant sense of the intensity of Counter-Reformation spirituality, with its belief in miracles, and in comfort of the Virgin's mediation on behalf of mankind. The church is still a center of pilgrimage, an oddly rural sight with its surrounding fields and poplars, among the supermarkets and garages that spread from Milan."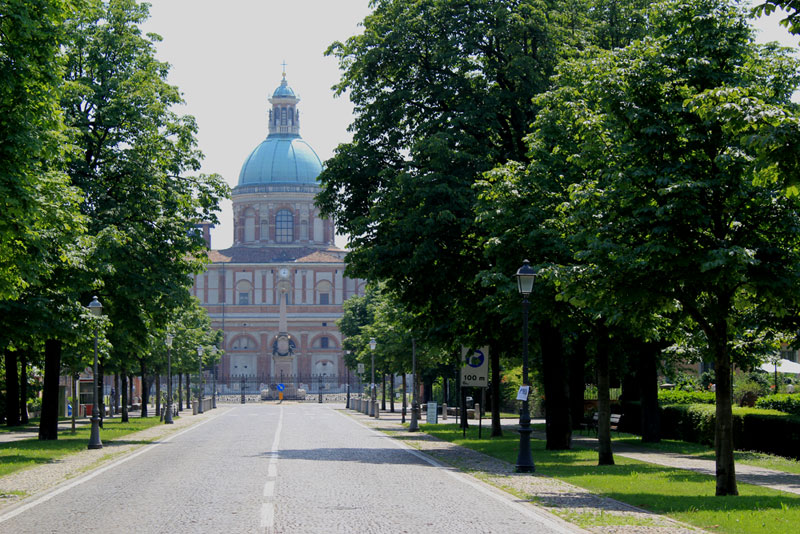 Sanctuary of Madonna della Caravaggio, also called Madonna della Fontane for the spring that appeared under her feet.
Is it so surprising that one of the greatest painters of religious subjects ever came from this town? Cardinal Borromeo was instrumental in reviving the Council of Trent and keeping it going until 1563. At its end, it reaffirmed the importance of art for the mission of the Church. Caravaggio took these concepts with him to Rome and that enabled him to become the great painter of that reviving tradition. The boy from a town that was transformed by a miraculous apparition of the Madonna became the artist who painted miracles. Often we may think of him as a painter of workers and ordinary looking saints and sinners but his portraits of the Virgin are numerous, and memorable and moving, especially from his later life. 
A number of writers have come here hoping to find something at the playground saying Caravaggio had his first fight here or they look for some reference to the great artist. There are no plaques. Some have written of their disappointment saying they only found a shrine to the Madonna.  
This is a typical agricultural town with the most normal people. The ride from Milan is convenient and you get a sense of transitioning quickly to the country. It has charm and it is a good place to walk. The sanctuary had thirty or forty people and a group of ten nuns in the afternoon and pilgrims in twos and fours passed through the area underneath with the spring. The walk to the shrine from the old city is pleasant and shaded even in the afternoon. The only danger in Caravaggio is from silent bicycles on the sidewalk. It is a peaceful town.
Caravaggio
They don't come and go talking of Caravaggio
They ride bikes.
Caravaggio the town is east of Milan,
Flat all the way there, corn, grapes, olive trees, horses, and hay
The walk, do not walk light, does not have the little green walker, for go, it has a green bike.
From the edge of the old city the trees and paved sidewalks line the boulevard to the shrine.
The sanctuary of Madonna della Caravaggio is at the end of the perspective lines of the trees
It has a Baroque dome that I saw from the train two towns away rising above the flat fields
Writers come to find a trace of the great painter
There are no plaques for him
Instead they find the spring that gushed from the rock under the feet of the Virgin
Under the basilica it still springs
Pilgrims wash their parts that need healing and fill bottles and pray for others
The water is very cold, by next week they will know if it worked.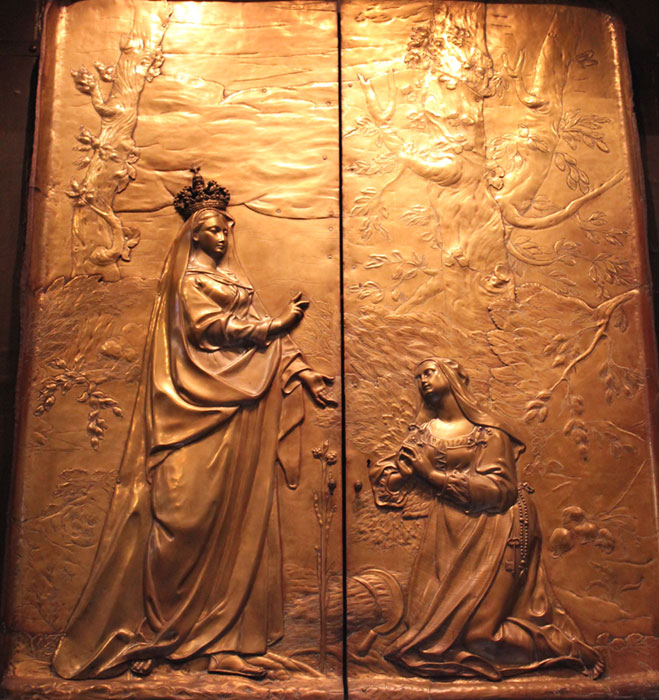 Apparition of the Virgin at Caravaggio, bronze, above the back door of the church.
This is a link to the website of the Shrine of The Madonna of Caravaggio: http://xoomer.virgilio.it/sito_della_pace/madonna_caravaggio.htm