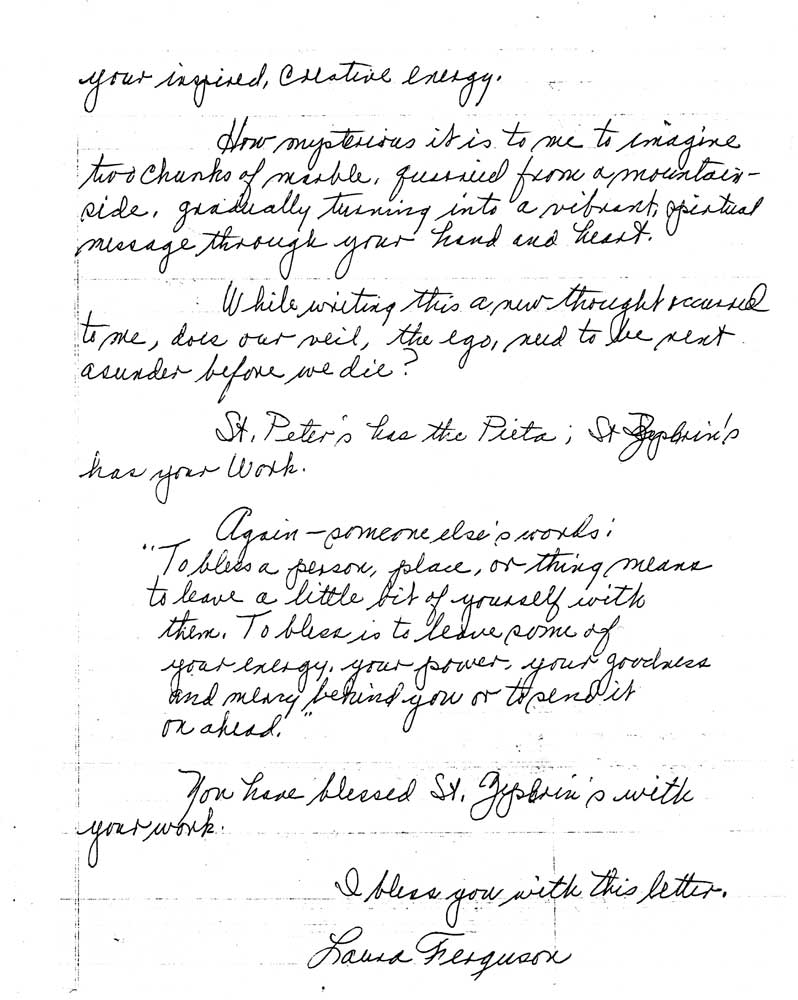 Laura Ferguson was a very old parishioner of the parish in 1992 
SCULPTOR AT SAINT ZEPHERIN'S CHURCH, COCHITUATE, MASSACHUSETTS AND ABOUT THE MARTYRED SAINT
And about the sait
Risen Christ, Imperial Danby Vermont Marble, life size,
The sculpture is a RisenChrist part of a permanent Architectural element at Saint Zepherins Church.
Saint Zepherins Church is where I grew up. He was Pope Zephyrinus from 217 to 222 when he was martyred. He is buried in the Roman Catacomb of Saint Callistus in a room with Saint Cornelius Pope from 250 to 253. Cornelius only lasted three years. In an imaginary interview I had with Saint Peter about Martyrdom I was asking him about his expression being cricified upside down in the Caravaggio painting.
 http://www.corneliussullivan.com/my_interview_with_saint_peter4.html
 I included this –
He (St Peter)continued, "So to conclude about martyrdom. Do you know that all but two, of the fifty two of my immediate successors as Bishop of Rome are saints, most were martyrs?"
I was proud to say, "I know, someone gave me a piece of paper on the street in 2005 with a list of all the popes. Typed in at the bottom was the name of the new pope. I have kept that list. It is well worn, I will tell you how I used it. Some years ago I did tours of the Vatican Museums. There was another docent who was saying that the museums were all about propaganda and the Church reifying its power. I was not content to read the interpretations of historians of what the place was about. I hoped that I could know for myself the reality behind the grand collection and the buildings. The key was the paper that I had saved. The place is built over the grave of the fisherman, you, and on the blood of the martyrs. When I showed it to visitors they noticed the capital "M", for martyr, after the names of the first popes, thirty three of them, often in office for a short time. Pope Cornelius made it for three years before he was murdered. I continued, Caravaggio painted many martyrdoms."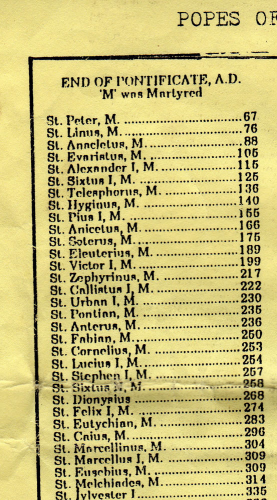 The letter below is from 90 something year old Cochituate native Laura Ferguson. I think I remember her from church and went to school with her Granddaughter.
\