Caravaggio Reveals Himself
By Cornelius Sullivan – Rome

 
There are a number of self portraits of the painter looking out from the background of biblical dramas. But there is one painting that can tell us what he thought about himself. That painting is The Calling of Saint Mathew, in the Canterelli chapel of San Luigi dei Francesi in Rome . He, like Saint Mathew, is a most unlikely candidate for the grand designs that God, history, and fate have given to him. The "Who me?" gesture of disbelief of Saint Mathew at being chosen by Christ, that we see in the painting, was invented by Caravaggio as he watched the dramatic highs and lows of his own life.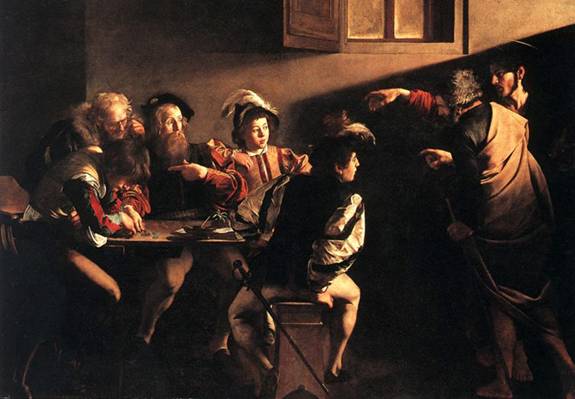 Calling of Saint Mathew, San Luigi dei Franchesi, Rome
Jesus hung around with prostitutes and tax collectors. (Is there a message here?) Caravaggio's models for saints and sinners were prostitutes and his other street people friends.
Caravaggio's lot was to live the conflicted life of  "Painter of Miracles", as Francine Prose calls him, and at the same time live the life of a temperamentally predisposed brawler, fighter, and eventual killer.
My former Pastor, Father Eugene Alves, used to say "God often chooses the most unlikely candidates." A magazine published my letter to the editor containing this dictum with a description of the most unlikely great painter of religious events, Carravaggio, depicting the calling of the most despised tax collector.  The letter was one of protest of the fact that people in some circles, who could be looking for today's Caravaggio, are content to extol tired contemporary copies of Eastern Icons as the only valid religious art today.
Tax collectors like Mathew were on the rung below prostitutes in social and moral acceptability because they worked for the conquering Romans, and the collectors were allowed to take their own cut of the take.
In the Martyrdom of Saint Mathew on the opposite wall of the Canterelli chapel the artist leers out as an onlooker to the violence, and he presents the face of a man that you would not want to engage in a sword fight.
There are a number of squishy pale skinned boys, painted as if they were still lives, from his early career, that many believe are self portraits. Most notable is The Sick Bacchus in the Borghese Collection.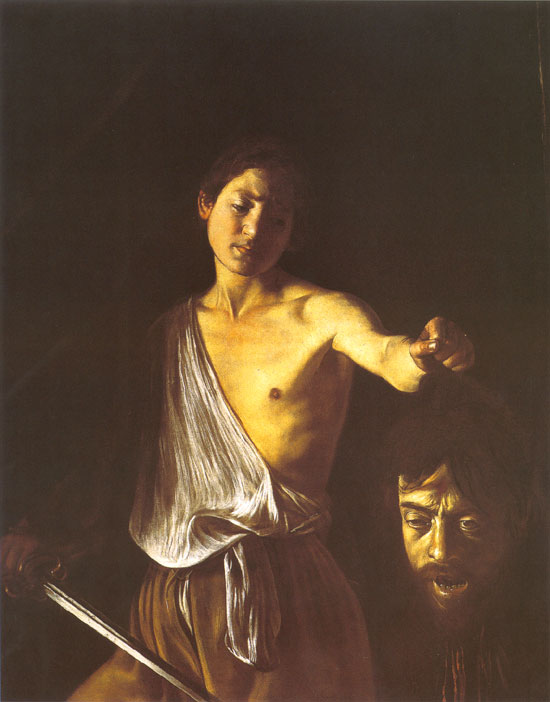 David and Goliath, Galleria Borghese, Rome
The most haunting likeness is his self portrait as Goliath also in Galleria Borghese. He portrays himself tragically and unflinchingly dead, held decapitated, in a young and reticent David's hand.  This is one of his last paintings and probably had a part in his pardon from the murder charge of 1606, the pardon to be able to return to Rome .
 He was pardoned by the Borghese pope, Pope Paul V. The painting became part of the collection of Pope Paul's nephew, Cardinal Scipione Borghese. Cardinal Scipione holds the distinction of progressing from patron and commissioner of art, as many cardinals of his time were, to becoming the great collector of art. He was a force behind the careers of not only Caravaggio but also Gian Lorenzo Bernini from his youth.  The cardinal was able to get the Virgin and Child with Saint Ann painting, one of many Caravaggio masterpieces that were rejected.  For the commissioning body, the grooms from Saint Peters Basilica, the Virgin was a little too busty and the Christ child was a little too old to be nude. None of this bothered the cardinal with his powerful censers for great art.  The Borghese Gallery guide book from 2006 says this about the acquisition: "In fact so quickly did he manage to get his hands on the rejected painting that some have wondered whether he, nephew of the pope and a man of great power, had not manipulated the whole thing to his own advantage." This is pejorative revisionist speculation.  I object in the same way that I did in my last article on Caravaggio, about trying to read the painters mind during a sword fight. What is this, "get his hands on", and "some have wondered"? The great collector, Cardinal Scipione has made it possible for us to see so, so many Caravaggios and Berninis.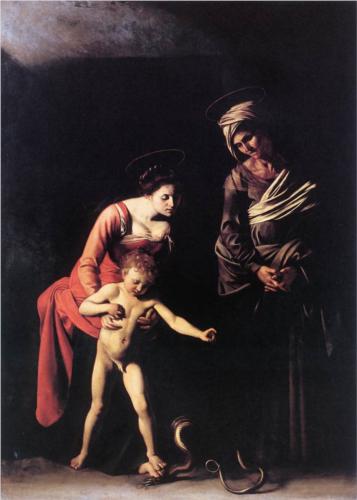 Virgin and Child with Saint Anne, Galleria Borghese, Rome
Caravaggio knew we would be talking about him today. He knew this because he knew of his own greatness as a painter. Knowledge of this truth must have made all the rejections difficult to bear. The other Michelangelo, Bounarroti, was aware of his own greatness. William Wallace, in his recent biography, points out that Michelangelo always left a job if a better one presented itself.  This is due to the artist's awareness of his own worth.
Both Michelangelos forged their own individualistic way to make art and because of this, they encountered difficulties along with recognition in their own lives. Caravaggio rejected Renaissance drawing and preparation for painting and painted directly from his models. Today we relate to that direct realism. He dressed up his models and choreographed them like a Hollywood director. None of his paintings need explanation. One of his gifts was the storytelling gift. Every detail adds to the narrative. And the narrative may be quite complex, dealing with life, death, grief, awe, visions, and mysteries of faith.
We do not forget the characters that he creates. His love for them shows and that's why we can know them as individuals. I was studying a  David, by Orazio Genteleschi, a follower of Caravaggio and a wonderful painter, always a bit more tasteful than Caravaggio. (When Caravaggio was arrested for slander for writing a scathing obscene poem about his critic-biographer Giovanni Baglione, he spent two weeks in jail. Orazio was also implicated and he, a more gentile citizen, spent only one night.) It occurred to me that Genteleschi's saint was a combination of the live model that posed for him, combined with cannons of proportions from antique sculpture and Renaissance art. The figure is pleasing but we don't relate to it in the same way that we do to a Caravaggio figure, soaked in its own individuality.