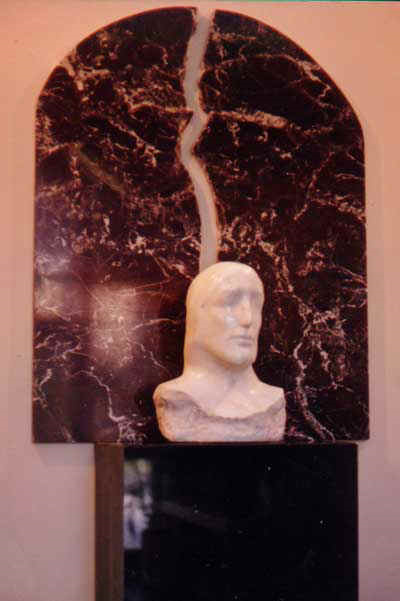 Risen Christ, Cornelius Edmund Sullivan, Good Sheperd Parish, Saint Zepherin's Church, Wayland, Massachusetts, Imperial Danby Vermont marble, black granite, Rosso Levanto Turkish marble, life size, 1992.
The sculpture is part of a permanent Architectural element designed by the sculptor and it echoes the shape of the Palladian arch in the architecture of the building. The marble slab is cut to reflect the shape of the arch. To symbolize the Veil of the Temple splitting I split in two the piece of Rosso Levanto Turkish Marble with several well placed blows.
I have been told that the features of The Risen Christ are perfect. I think that people are allowed to see, what they see because the details are not so specific and therefore not very limiting. Who wants to see a Photo Realistic Risen Christ? His body was glorified. The letter below by Laura Ferguson, a parishioner reflects this.
The old Saint Zepherin's was a typical church from the end of the Nineteenth Century with stain glass windows and painted life size plaster statues of saints. I was an altar boy there for the Latin Mass. I can close my eyes and recall the statues and the stained glass windows and the Stations of the Cross. My mother Kathleen Sullivan and her friend Grace Courchine were the Saint Zepherin's Altar Society and on Saturday Mornings they would replace the altar cloths and vacuum the rugs as I ran around the pews and studied the art.
Here is a note from Pastor Father Paul Beraby, April 26, 1992.
Edmund Sullivan grew up in Cochituate, went to Marian High School and later to Boston College and Rhode Island School of Design, and is presently a Visiting Lecturer at Harvard University Graduate School of Design. His sister, Mary Murray and her family are parishioners. He sculpted the Head of Christ that was dedicated and blessed in the Parish Center Lobby on Palm Sunday. It is a gift of the John Bryant Family.
Sculptor at Saint Zepherin's Church, Risen Christ, Imperial Danby Vermont Marble, life size,
Saint Zepherinus was Pope from 199 to 217, when he was martyred. He is buried in the Roman Catacomb of Saint Callixtus in a room with Saint Cornelius, Pope and martyr, from 253 to 254. Some years ago, I did tours of the Vatican Museums. Not content to read the interpretations of historians of what the place was about, I hoped to know for myself the reality behind the grand collections and the buildings. The key was a piece of paper that someone handed me after Pope Benedict XVI was chosen. The place is built over the grave of the fisherman. When I showed the paper to my guests they noticed the capital "M", for martyr, after the names of the first popes. Thirty three of them, often in office for a short time, were murdered.