Pope Francis, They Chose Well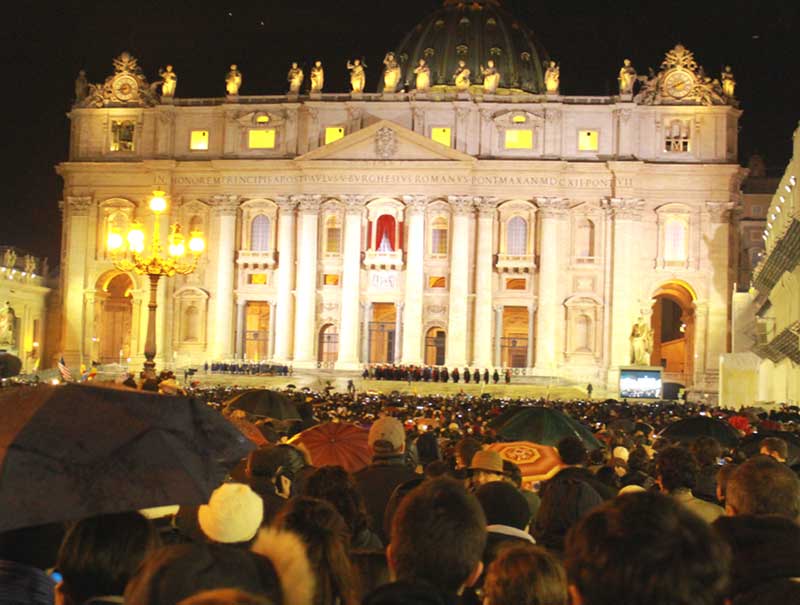 Habemus Papam
March 13, 2013
by Cornelius Sullivan
Rome
The South Americans, the Italians, and the journalists think the Cardinals chose well, the surprise Pope, Cardinal Jorge Bergoglio of Argentina.
He is a simple pious man who lives the Gospel. He is a Jesuit who lives like Saint Francis of Assisi. As an outsider, he can be a reformer. He was the runner up to Cardinal Ratzinger in the conclave in 2005. He was being used to block Ratzinger and he said, do not vote for me. In 2002 he dodged the move to bring him to the Curia in Rome. So, he has been known by the Cardinals for some time.
I did not expect white smoke but decided to take my camera and go out anyway for an evening passagiata just before 7. Ten blocks from Saint Peter's there was a bus stopped in traffic. Suddenly, all the doors opened and everyone ran out toward the basilica. In the piazza everyone was smiling, it was a sight such that I had never seen before. I wished I could freeze time and take a picture of every face. Standing behind me were three men speaking English. A young priest from Milan, an older man from Australia, and another young man from Brazil. The priest said to me, "This is family, this is a family event. We are together here, we are from three different continents."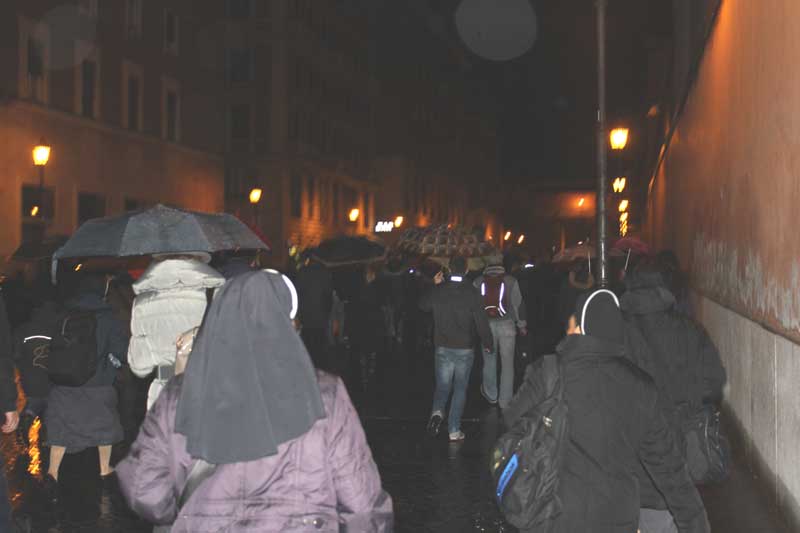 Running.
Then the surprise announcement of Cardinal Bregoglio came, he would be Pope Francis.  I had heard of him. The crowd turned quiet and subdued but only for a time. Then chants of Viva Francesco, and Viva Papa filled the cool air. It had rained for a week. Gulls circled the cupola of the church as we waited. Then the rain stopped just before the new Pope appeared. Just in time, umbrellas came down so we could see. Today is my first day of sun in Rome.
I had heard a great deal about the Cardinal from Argentina. On Saturday evening walking home late down Via Borgo Pio, the street that leads directly to the Santa Anna Gate into the back of the Vatican, half way down the street, there was a wine bar restaurant with the door open, a man singing and playing a guitar, and a sign painted on arched glass above the door, Enoteca Amor Divino.  It was like a living room or dining room with bottles on the table. I did not see a menu. You poured your own glass. If the wine that you wanted was not yet opened, you opened it.
 After a while the owner of the bar stood behind a large Italian man at the head of a big table of ten people. The woman with the big man had just sung with the guitar man in a trained classical soprano voice. Riccardo, put his hands on the big man and said in English, "He combines Sean Connery and Padre Pio. He combines the sacred and the profane. The saints are always connected to the earth…"  I knew we would talk.
When we did talk it was about the sacred and the profane, I was reminded of the Titian painting in Museo Borghese of Sacred and Profane Love.  Later, I said to him, "I noticed that the sign over the door says "Winebar Divine Love" and the menu says "Enoteca Amor D Vino", which is "Enoteca Love of Wine". He said, yes, the sign painter made a mistake!" I said, "God tricked you." He shrugged and said, "Yes, but I like God."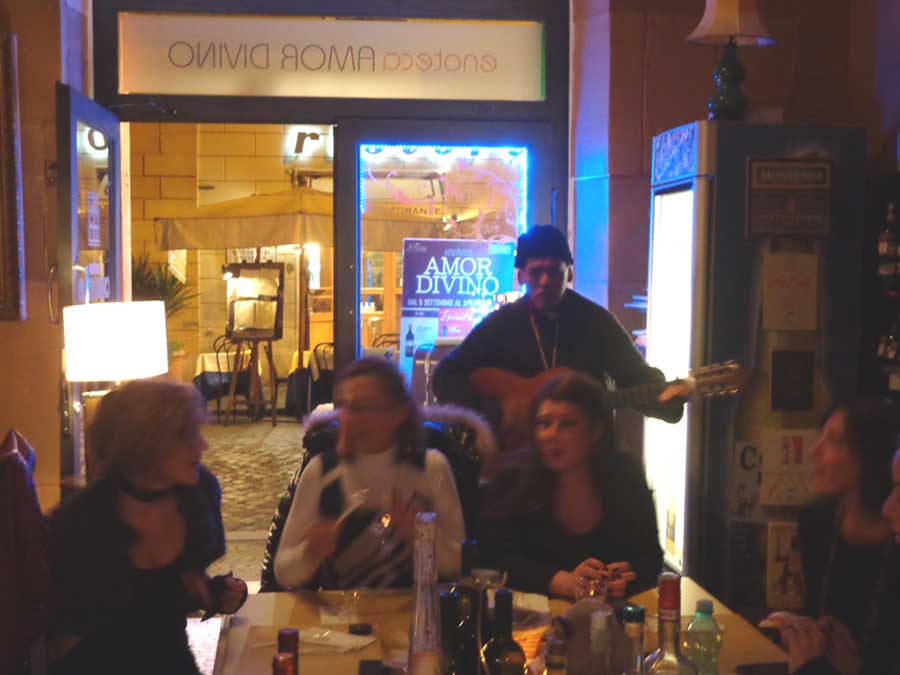 AMOR DIVINO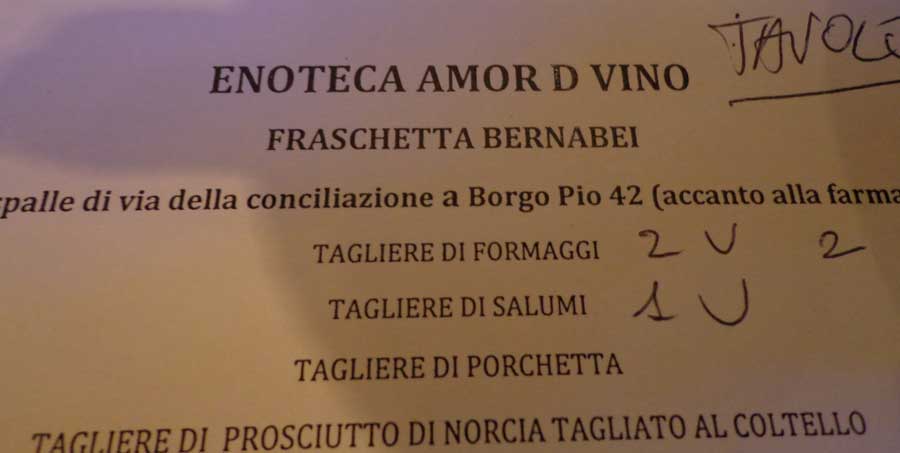 Amor D Vino
We agreed to meet the next day and I would interview him about Vatican things. We went to a little park across the street. I sat and wrote by the fountain. He stood in front of me so he could have space to wave his arms, pace, and move.
Mr. Della Chiesa (from the Church) is middle aged, a photographer, an energetic charismatic man who is passionate about ideas. About the Curia and the conclave he said, "It begins, the politics, we want this, and we want that,…then when they give up. That is the God moment." He continued, "To clean up the Curia, well, to clean up a room, you have to empty it first."
I was trying to understand his ideas, they were in good English mixed in with Italian phrases for emphasis. He said, "We need a new era, a Post Humanism, a new Middle ages." He talked about how man has tried to become God with machines. This is where he talked about Cardinal Bergoglio as a holy man. I could not connect all the dots but his passion and clean heart were apparent. It sounded like a repudiation of Enlightenment ideas that have privileging progress, science, and world order over some more human values that he mentioned, like honesty, simplicity, and humility.
Is he an Italian Post-Communist Hippy or a bar man secular saint?  The night after the election he saw me on the street coming to see him and he ran to me, took my hand and would not let go, and said, "I told you, I told you." He did not stop smiling.
Then he told me that he lived downstairs from Cardinal Ratzinger for eight years at Piazza della Leonina Citta, 1.  He said the Cardinal was the "Kindest man I ever knew, gentle and reserved." He said as Pope, Benedict bore his cross and suffered greatly because he was so shy. He said that he did not think that Benedict gave up his office from weakness because he is a German who lived through the war and that his generation never would give up. He said we must look at the Pope's words, "I wish forgiveness for my weakness." And, "The Cardinal always asked about my family, my children and my mother."